Muslim Ali, known to many as Presenter Ali, is one of the most sorts after journalists. He has built a successful career in the media industry with a large fan base.
Presenter Ali is a Radio Voice, TV presenter, YouTuber content and video creator, and brand ambassador. He was born on 4th April 1997, at Old Makadara Hospital, Mombasa County. Presenter Ali schooled at Kiambani Primary School before joining Ofafa Jericho High School. He then joined the University Of Nairobi, where he studied Urban and Regional Planning.
Presenter Ali besides being a journalist, has also been a Peer educator at Hope World Wide Kenya since 2007. After graduating in 2017, he started a career as a journalist working at
Starlit Media as a TV host in the E-Show on Kenya Television Service (KTSTV Kenya) in 2015
News Anchor at MTV Kenya also in 2015
From 2017 to 2018, he joined Y254 as a TV presenter
After quitting Y254 in 2018, he joined Switch TV Kenya, where he currently works as a host of the East Africa Base Show.
Presenter Ali has vast knowledge in journalism and, in December 2015, was awarded by Extreme Awards the Music Show of The Year. He is proficient in Swahili, English, and Arabic Languages.
Presenter Ali is 25years and has subscribers of over 250K on YouTube with views of over 1 million. His YouTube channel is known as PRESENTER ALI. On Instagram, he has over 64k followers, and on Facebook, his Official page known as Presenter Ali has a following of over 300k and is liked by over 32k people.
On Twitter, his handle is @presenterali11. Presenter Ali is also a brand ambassador for several companies like Hodari Homes, where he markets their products on his channels. He is also a brand ambassador for Numeral IOT, a tech company in Kenya that manufactures technology products such as speed governors.
Presenter Ali is currently in a relationship with Medina Makena. Medina Makena is a professional makeup artist, Youtuber, and Vlogger. Her YouTube channel is called 'Medina Makena,' where she vlogs about makeup. They came up as a couple on 23RD January 2022after years of speculations and rumors that Presenter Ali may be gay. After years of intense scrutiny, Presenter Ali is dating and in love.
INCASE YOU MISSED
Why kenyans Lost Faith In Edgar Obare
DRAMAS OF PRESENTER ALI
Presenter Ali has been caught in a lot of dramas, and his YouTube channel has posted several videos which have led to confrontations with other celebrities.
In August 2021, Presenter Ali interviewed upcoming artist Miss P. Miss P, a signee of Saldido International, which Kenyan musician Willy Paul owns. Miss P, in the interview, alleged that Willy Paul sexually assaulted her. She said that Willy Paul forced her to have sex with him several times. This led Willy Paul to sue both Presenter Ali and Miss P for defamation. Will Paul said that the allegations against him led to emotional pain and widespread condemnation from people.
In an interview, Presenter Ali said that Willy Paul had arraigned him in court and sued him for Ksh10 million. In the emotional interview, Presenter Ali pleaded with Willy Paul since the money was too much and he could not afford it. Later, Willy Paul and Presenter Ali buried the hatchet and reconciled after the court ordered him to pull down the video.
One of the latest dramas to unfold Presenter Ali's YouTube channel was blocked for one week. The YouTube channel was blocked after it broke YouTube guidelines. The channel had uploaded a video about Forest Road, where Boda Boda riders sexually assaulted a motorist. The female motorist had hit a Boda Boda rider with her car and then ran away. Presenter Ali had uploaded the clip to his channel, leading to it being blocked for one week.
In 2020 Presenter Ali caused a stir online after photos surfaced where he was in makeup. Online makeup artist Creative Phil shared the images with many people questioning Presenter Ali's sexuality. Some people called him 'gay' while others praised his looks.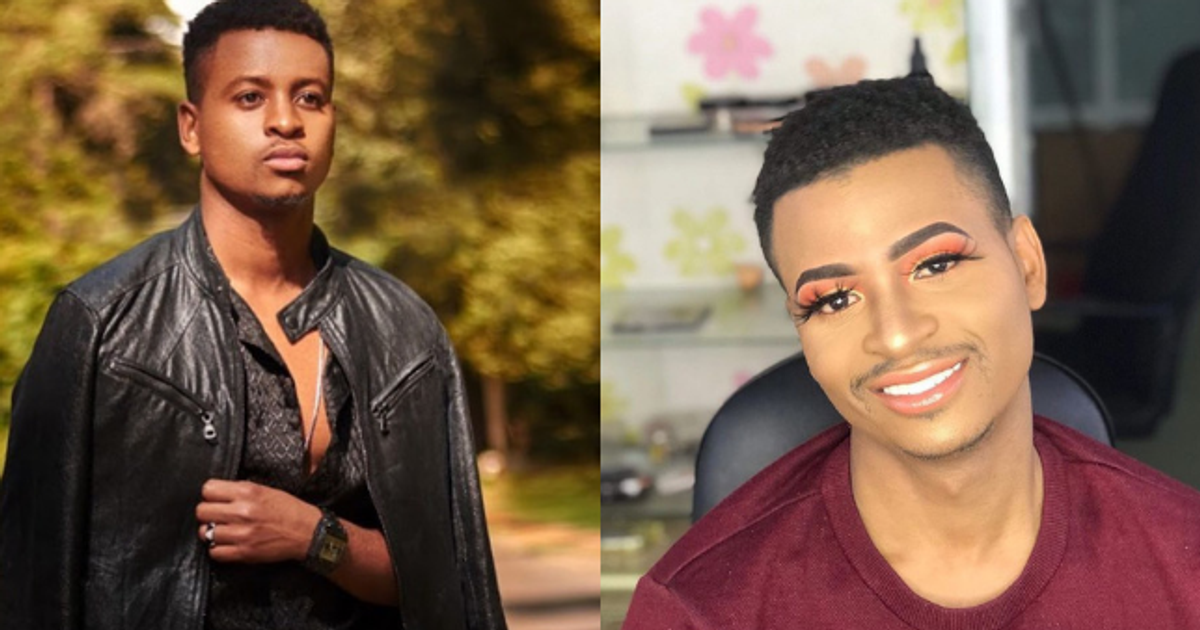 On one occasion, Presenter Ali had invited his cousin on a studio tour at Switch TV studios. At the end of the tour, Ali tried to prank the cousin by pretending to be a magician. He requested that his cousin remove the shoes so that Ali destroys them and then make them new. To the cousin's dismay, the prank went wrong as Ali tore the shoes. The prank did not succeed, but Presenter Ali surprised his cousin with 5 new pairs of shoes.
PA, as he is known, has used his YouTube channel to highlight issues in Kenya. He has interviewed celebrities, politicians, and also ex-convicts. He has also helped upcoming Youtubers like Mungai Eve and her boyfriend, Trevor. PA has found fame as a Swahili presenter doing inspiring stories to fun stories as well. Being one of the few Swahili presenters in the entertainment industry has helped distinguish him from the rest and helped him grow from a TV host to an independent presenter in all aspects of social media.
Presenter Ali's net worth may not be known but is in the millions acquired from brand endorsements, his social media channels, Television, and investments. Presenter Ali also does gigs and events
Conclusion
Presenter Ali having such an illustrious career in journalism, has been helped by his resilience and hard work in the media industry. He has role models such as David Mbatia and Shaffie Weru. Presenter Ali with or without the dramas, is a pioneering Youtuber and has used his vast knowledge to help and mentor others.
His relationship with Vlogger Medina Makena has labeled them a Power couple on social media, and many of his fans support the relationship.
Presenter Ali may be young, but his influence has been tremendous and positive.